Music Note Christmas Ornament
Several years ago my grandmother, who you can read about here, passed away in August. I knew it would be difficult not having her with us that year for the holidays. I wanted to somehow incorporate and honor her memory in our Christmas festivities. I decided to make some Christmas ornaments out of some sheet music and hymnals that I had gotten from her estate. It was bittersweet thinking back on all the times as children we had sat at the piano bench that I was now carefully going through selecting the most fragile music sheets and hymnals. The bench has a storage seat and there are all kinds of music treasures to be found. There is even a receipt for work done on the piano that my grandparents saved from way back when.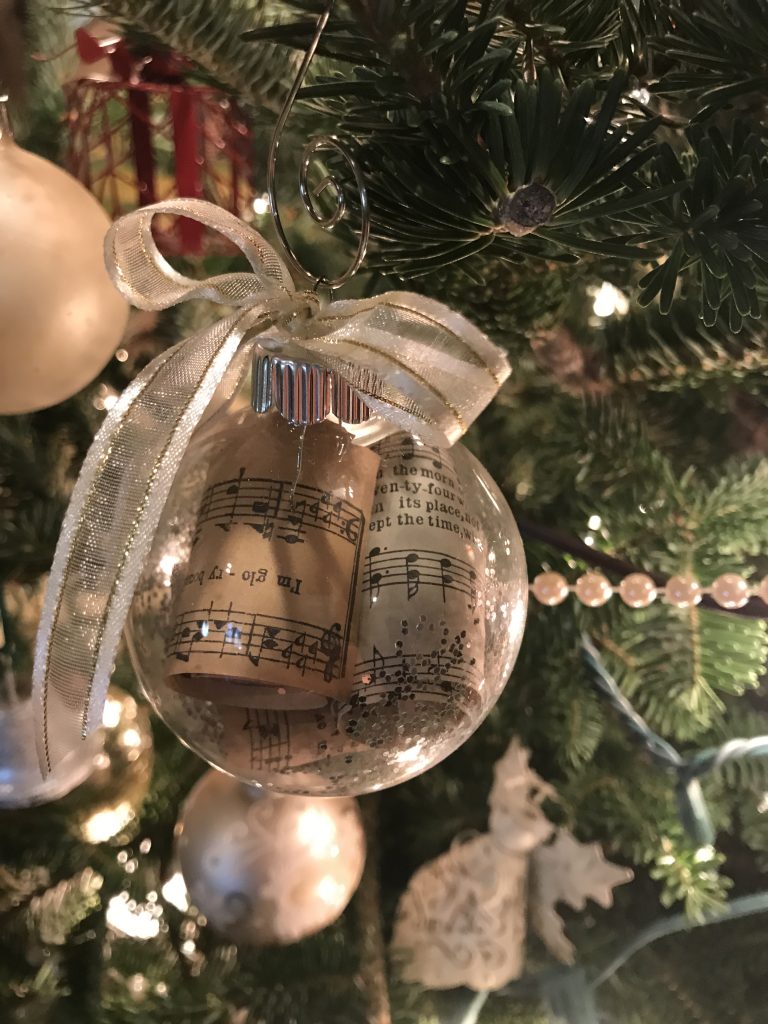 When you can repurpose or reuse something that has been passed down to you – I think you should no matter what it entails. So, I set out to rip and cut sheet music and hymnals and use them on my tree. I started with the most torn and tattered pieces. Like distressed furniture those pieces had character!
If you like the music paper Christmas ornament idea but don't have any sheet music, you can often find old hymnals at a used bookstore.
I will add affiliate links to make shopping easier for you. I do get a small percentage of the sale so that I can continue to bring you more projects.
Music paper
Glass balls from the craft store, like these
Ribbon
Ornament hooks, I like these
Pencil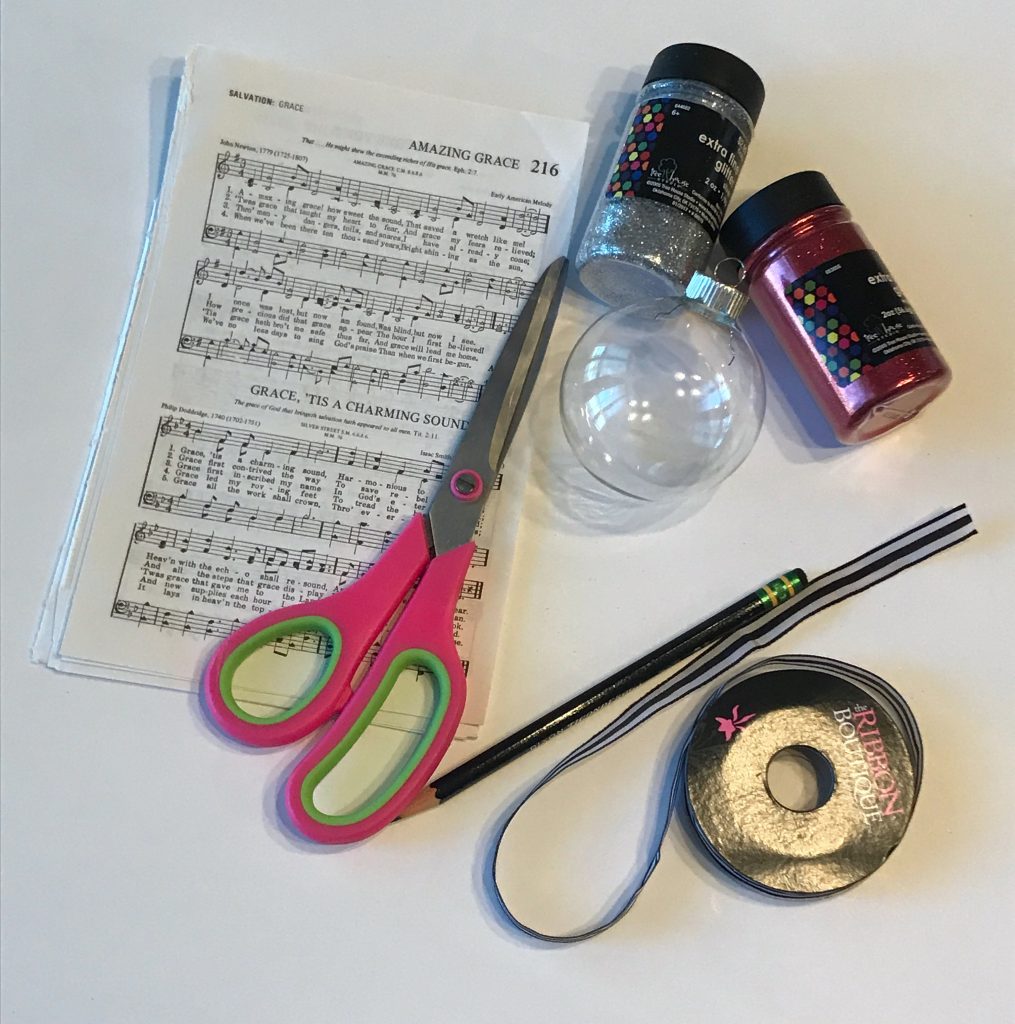 Remove the cap off of the glass ball.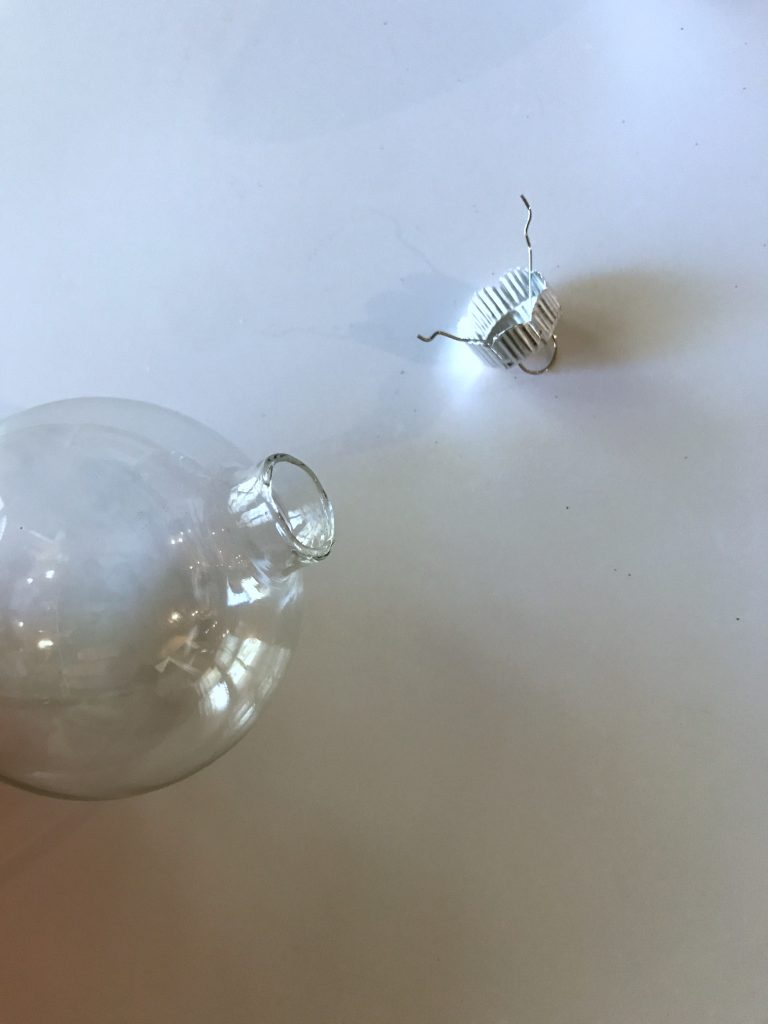 Sprinkle a little (or a lot) of glitter into the glass ball.
Cut or rip your paper into strips. I prefer different sizes.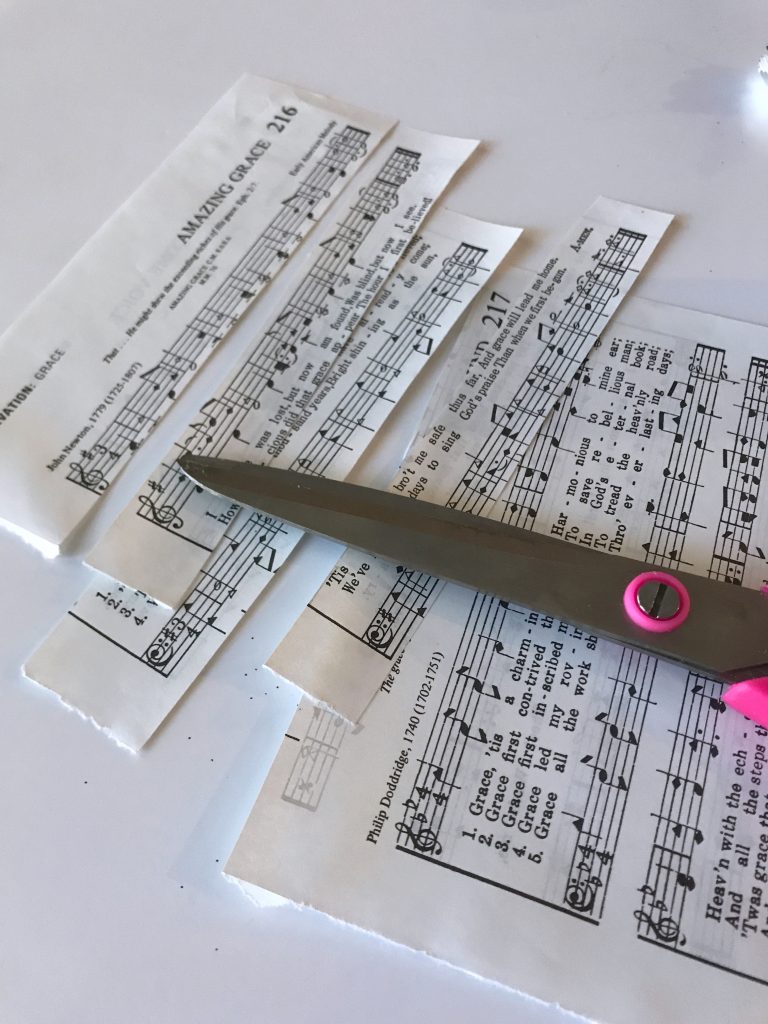 Use the pencil and tightly roll a strip of paper on it. Then slide the rolled paper off the end and slip it into the glass ball.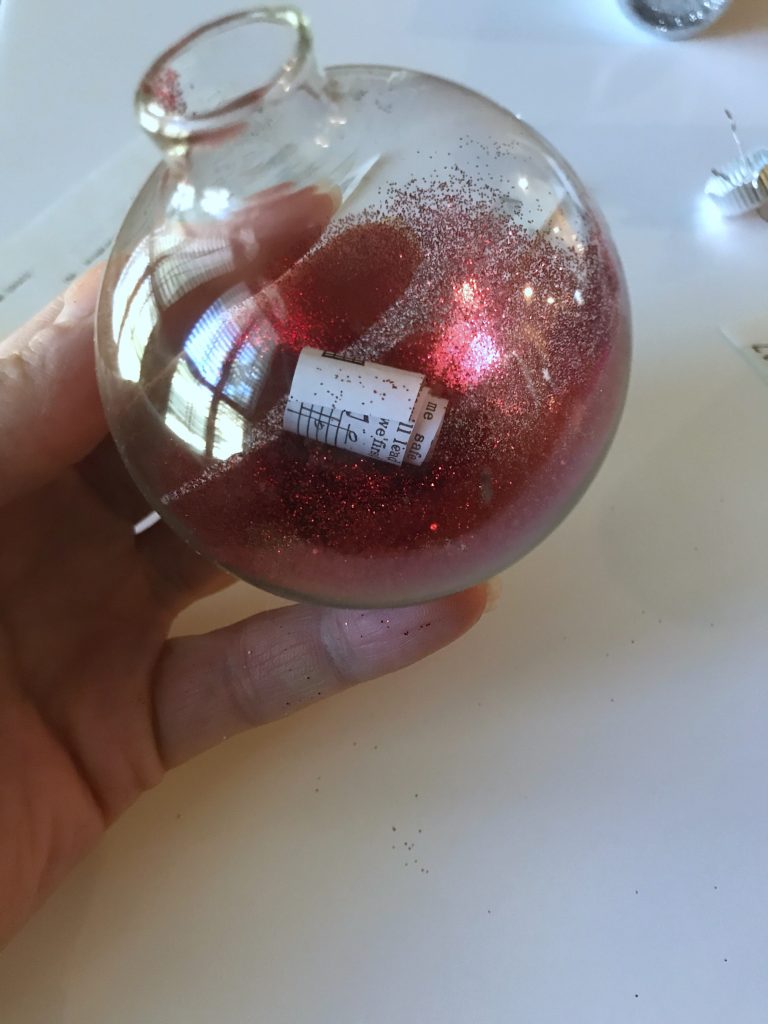 Fill it however full you desire. I used 3-5 rolls per glass ball.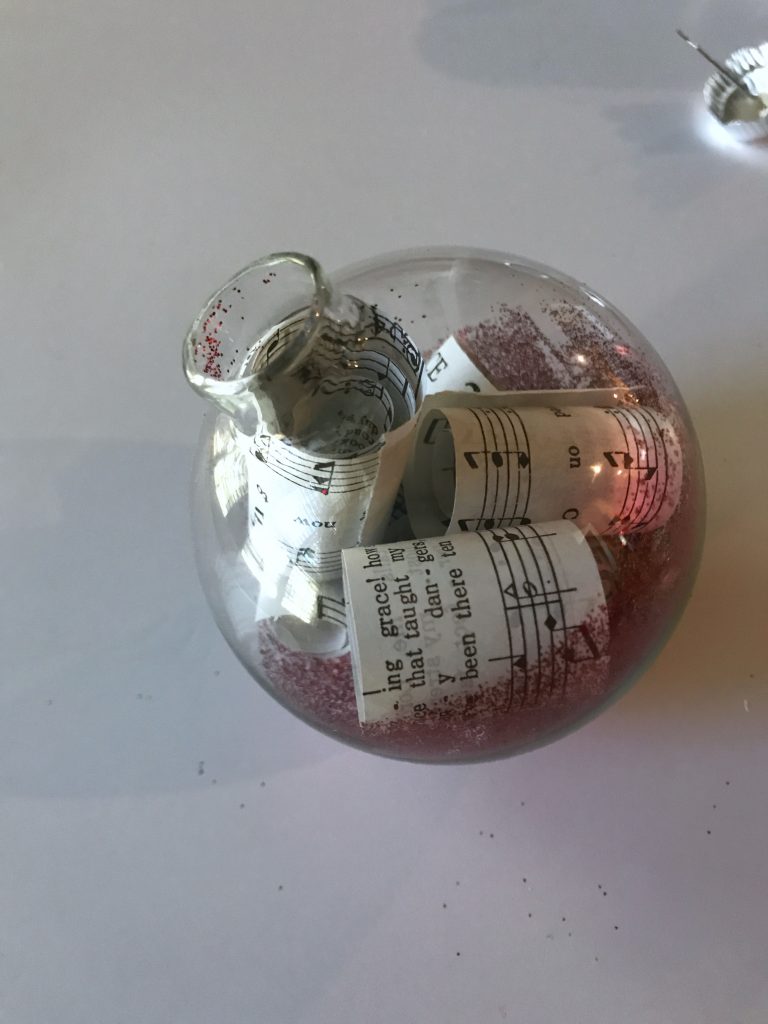 Replace the cap on the glass ball and tie a simple ribbon on the hanger loop.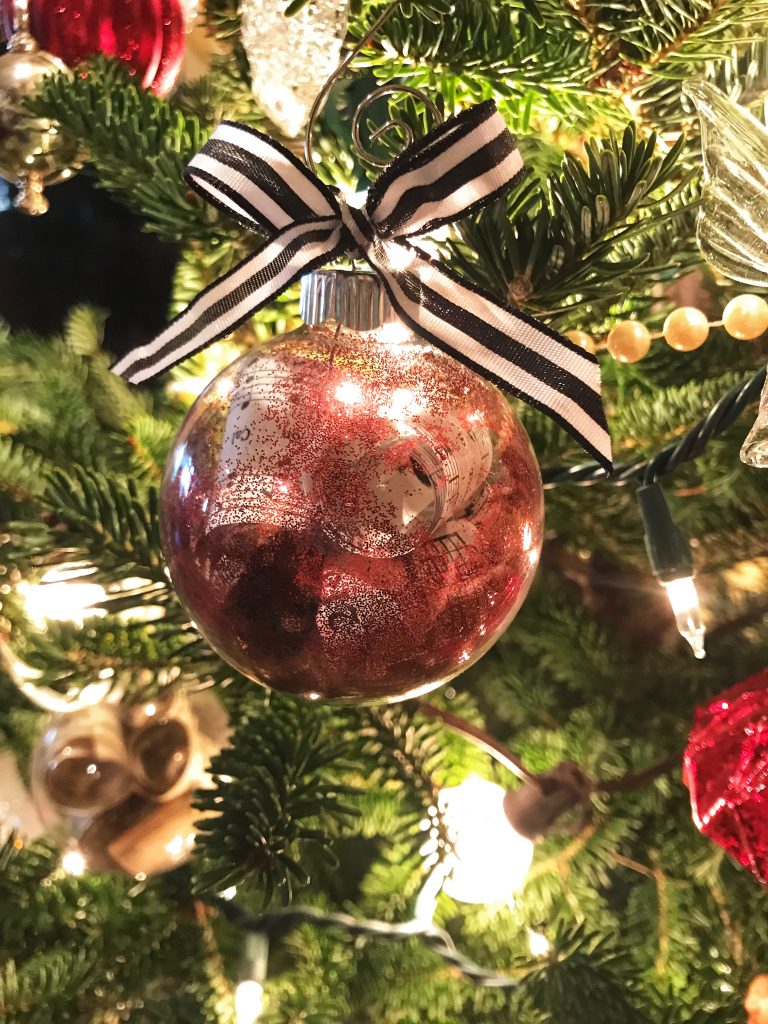 The first year I did these I added a little tag with the year that my grandmother passed. You could also add tiny bells or charms on the outside. Broken jewelry pieces, charms, or curling ribbon would also look adorable inside the glass balls. You can fill them with all kinds of treasures, and then they're a special ornament you can admire every year.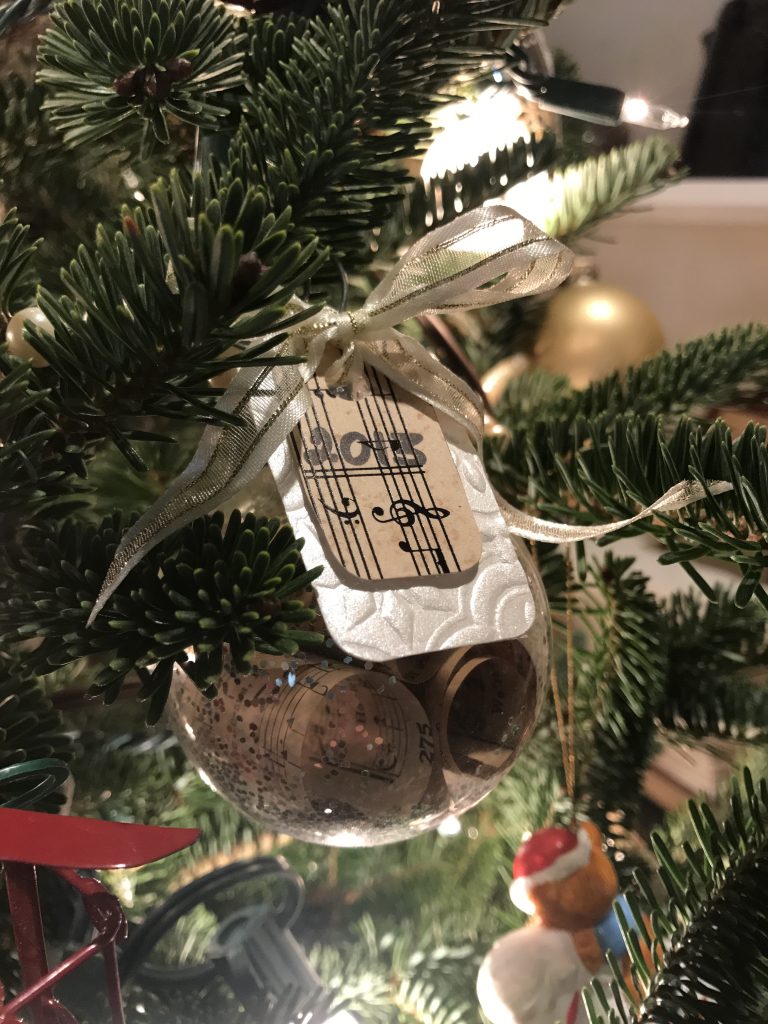 That year I gave those ornaments to everyone in our family. Her music paper is all over our tree in glass balls, and they are some of my favorite ornaments.
Remembering your loved ones with artful pieces on your tree is one way to keep their memory active in your festivities for years to come. May you enjoy this season along with sweet memories from seasons past.
From my heart to your home,
Jolé