Mid-Century Modern Teen Bedroom Part II
If I'm being honest most of our home renovations haven't been near as thought-out as Makenna's room was that day driving home from Dallas. It usually starts with the most irritating factor of the room and goes on from there. It can take months to finish finding the right details, saving the money to replace whatever, and then actually finding the time for the work to be accomplished. Since her room is small and we knew what we were planning, I was determined to get it done start to finish within a reasonable timeframe.
I had Makenna go to Pinterest and make a board of all the mid-century modern rooms she loved. We talked through the elements and came up with our game-plan. I would suggest making a Pinterest inspiration board for any home renovation. It really helps to visualize when you are working with someone else on a project. And, Makenna has a small room therefore we had to be very thoughtful in how we arranged it and the wall decor. Mid-century modern isn't cluttered and that is a challenge in a small space. And, let's be honest it's a challenge in a teen's bedroom period. I think the planning phase was very helpful in keeping us accountable to the space and what it could hold.
Makenna chose Sherwin-Williams Essential Gray (SW 6002) out of her choices, and with her help we painted 2 coats in one full day.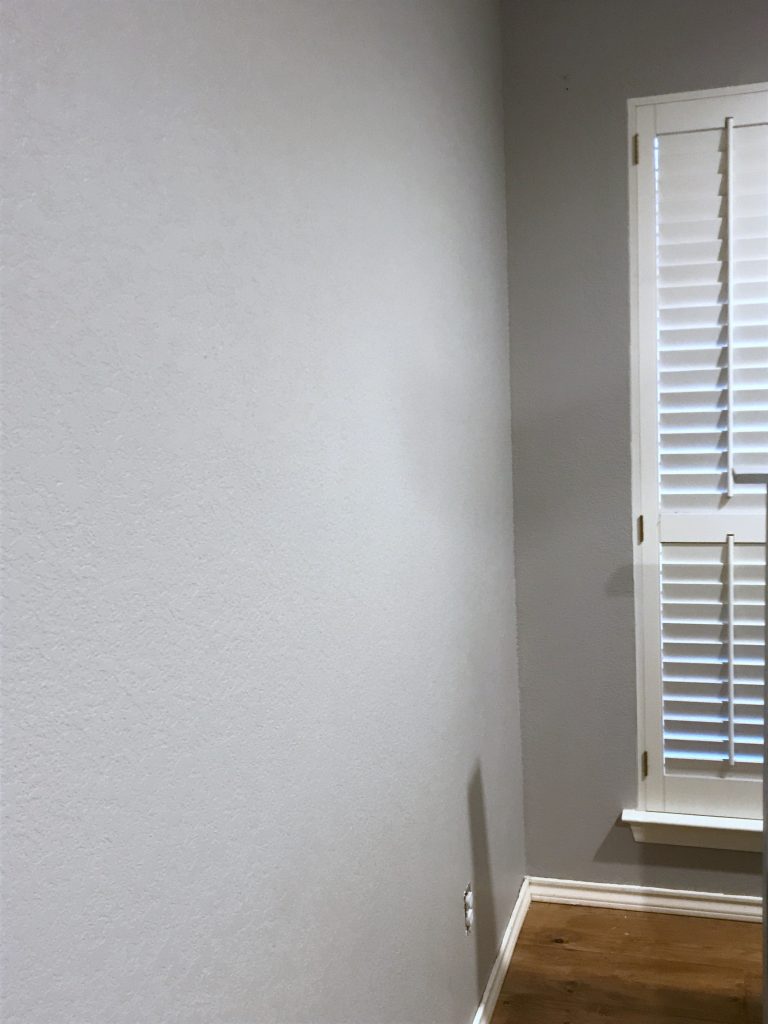 I sold her old French Provincial dresser, mirror, and nightstand which helped offset the cost of other things. Once we moved in the newly refinished mid-century modern furniture (go check out the before pics here) – things started to take shape. She had really wanted a comfy chair that she could curl up in, and when I found this Basset wood reclining chair on the Facebook marketplace for $20 we were all over it. We found the two-piece attached cushion at the At Home store for $60 in a light gray.
We only cleaned the wood and that's it! The lighting is a little different in each picture. The only thing that was changed was the cushions.
This post contains affiliate links that make your shopping easier and help to support this blog. I will receive a small commission if you make a purchase after clicking my link.
She already had the Mexican blanket throw similar to this one and gray faux fur pillow (which I found a similar one for a great price here), and we found the navy knitted pillow for $10 at the At Home store.
We kept the bedding simple with this diamond patterned quilt, flannel sheets, and multi colored pillow all from Target. The orange faux fur pillow was a fun pop of color and texture that I found on ebay.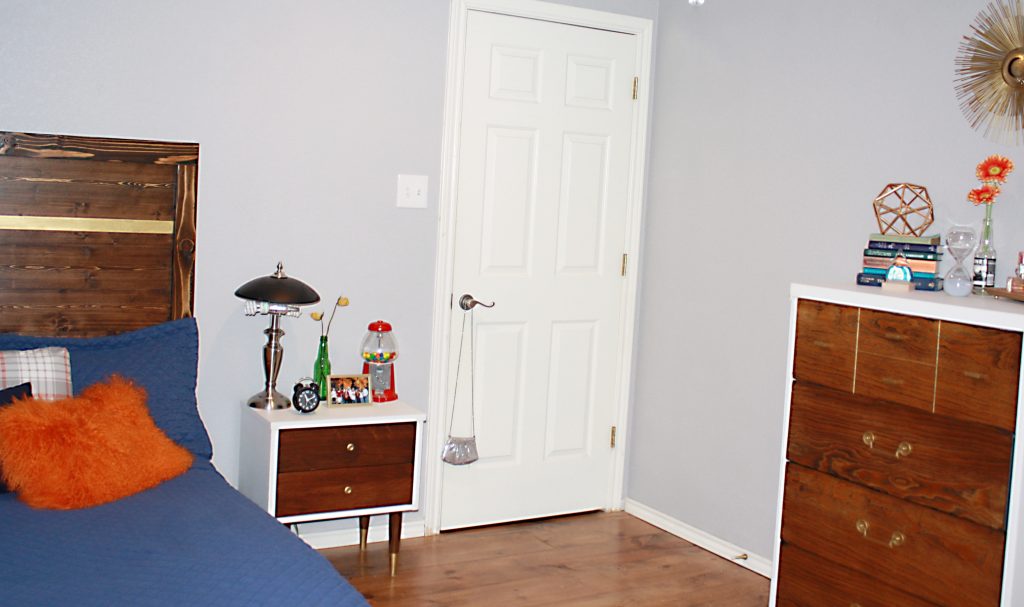 I think when doing such a specific design style it's important not to get too trapped in the era, and to bring some modern elements in that blend well. The faux fur pillows and the faux cowhide rug with gold flecks added just what we needed. I found the rug on Overstock.com for $92. The rug was definitely a splurge, but I think it added a great punch and was worth it. We kept it simple with white curtains at $14 for both panels.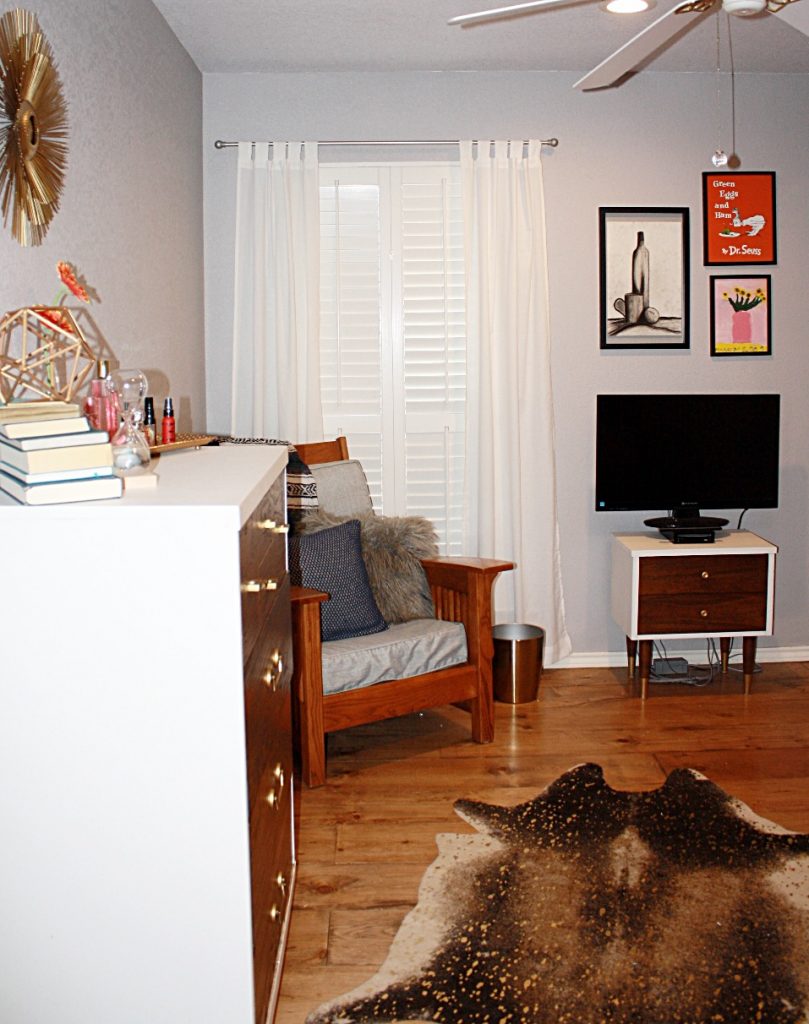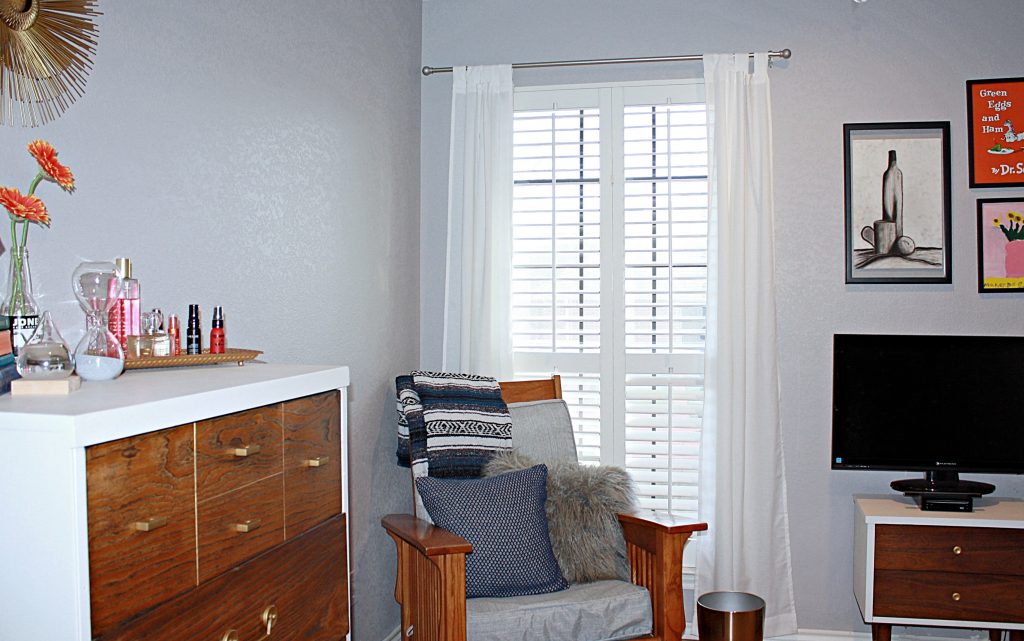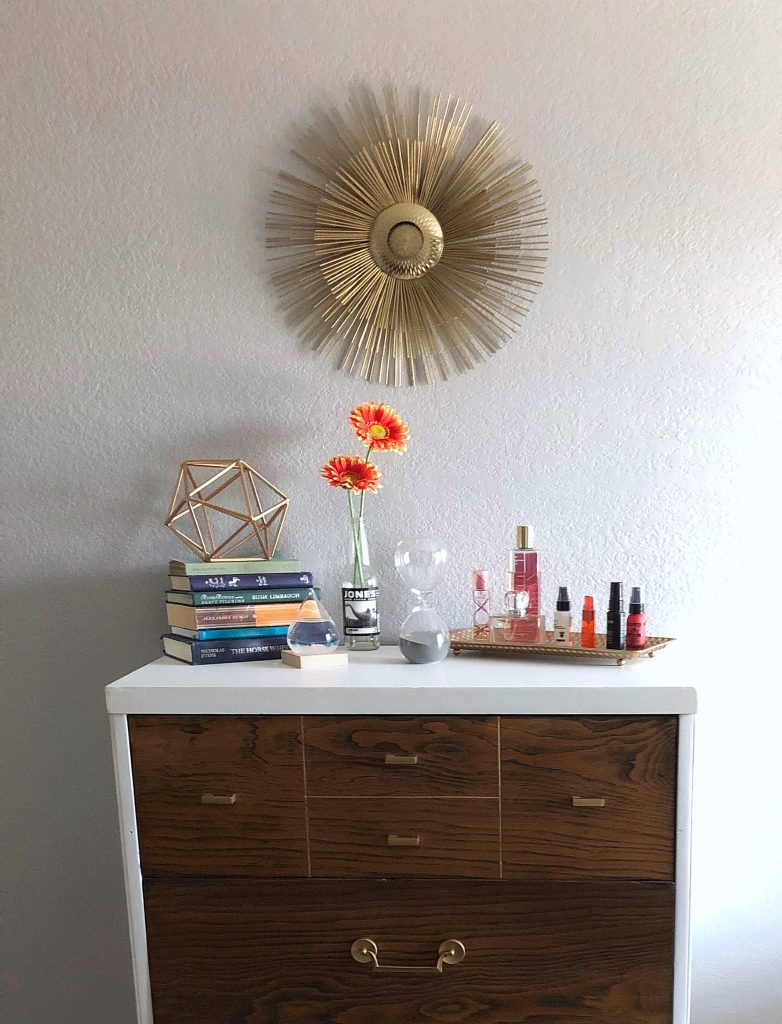 The gold starburst metal wall art from Target was a must to give us a mid-century modern vibe. I had really wanted to find a working vintage starburst wall clock but this was the next best thing!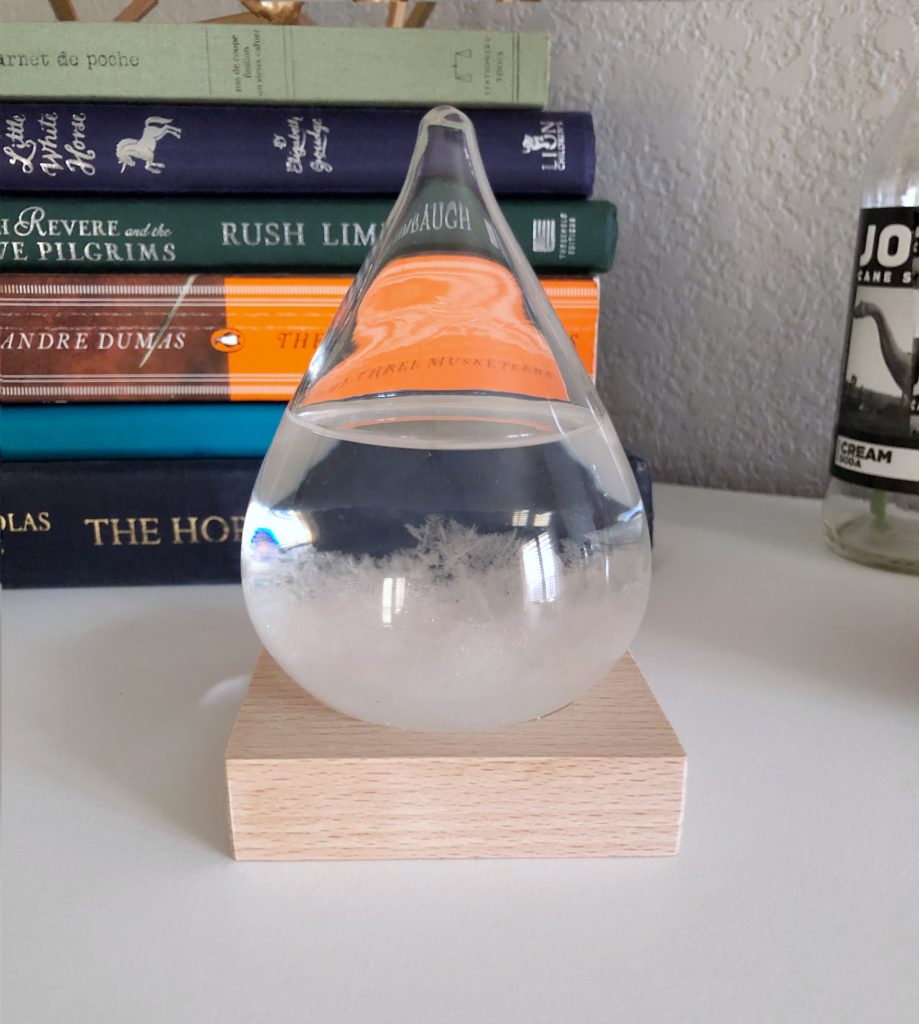 This fun find came from Amazon. Makenna loves weather and I'm not sure if this thing accurately works, but it was a cool component to add.
The artwork on the wall was done by Makenna, all we had to do was frame it. We found the Dr. Seuss print from Hobby Lobby and it gave us the touch of orange we wanted for the wall.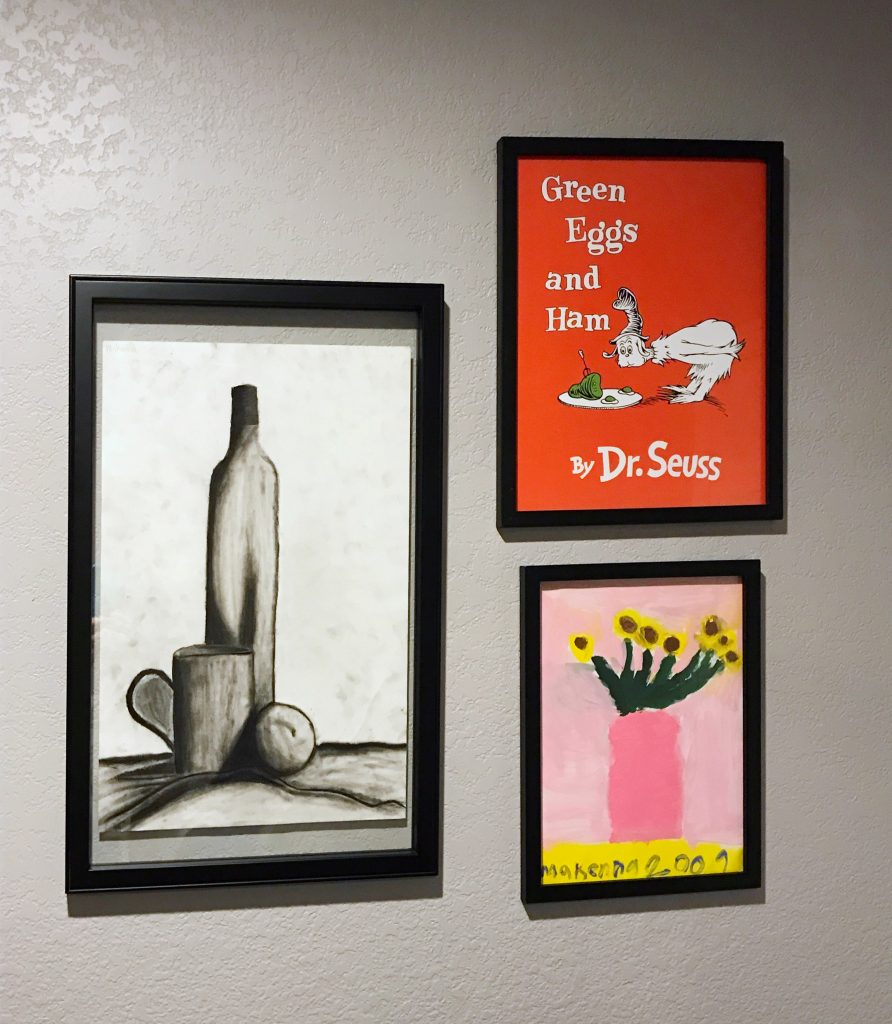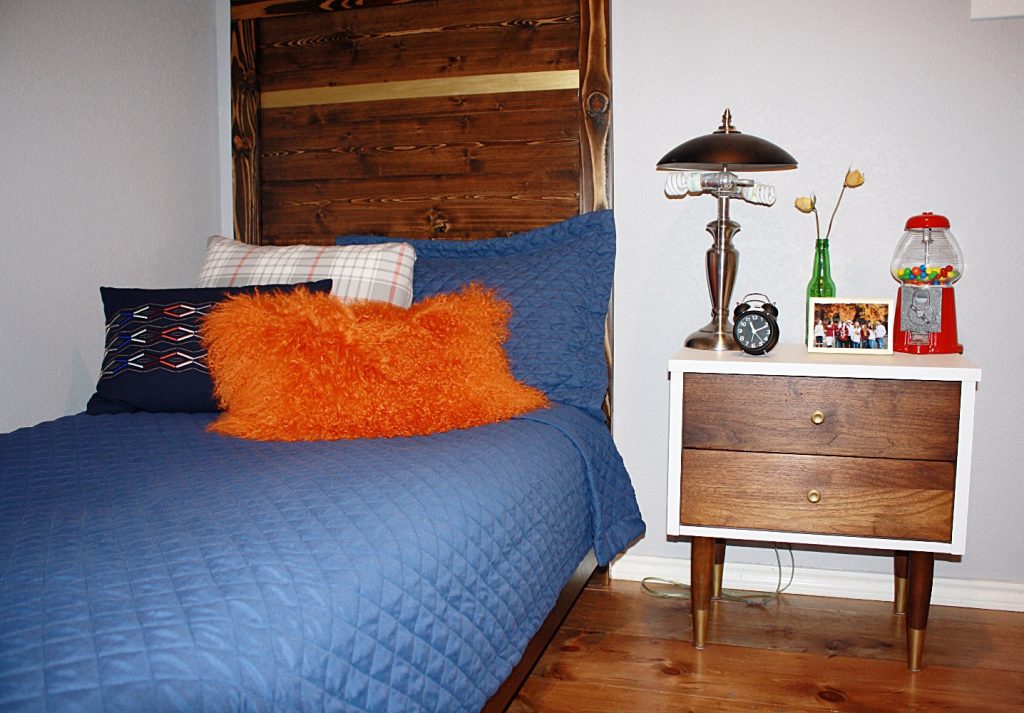 I built the bed with plans from Ana-White.com with just a couple of modifications to make it a little more low profile. Though the bed isn't mid-century modern style we felt it was neutral  enough to work. The gold stripe across the headboard that immolated the gold dip feet on the nightstand and the gold feet of the dresser simply said "hey, I belong here!"
All together from paint to furnishings I spent approximately $375 total for this makeover! I think we accomplished a whole lot of style with a story in this room. My favorite thing is how beautiful her artwork looks framed on the wall.
Our surroundings can make a difference in how we feel, and I think that is something worth taking note of with our children. Makenna says she feels like she now has a grown up room and she loves it. That friends is what warms my heart.
From my heart to your home,
Jolé