In the past year, I had really grown tired of the "Tea Light" pale dijon color on my living and dining room walls. This past May I seized the opportunity to get them painted. Interestingly, I have never lived in a house where I have painted the living areas more than once. But, we have officially lived in this house longer than any other in the past. It was almost a right of passage… It had been a little over 5 years since we last painted, and I was ready for a more neutral backdrop. I go through seasons of wanting color on the walls and when that season passes I want nothing more than to get something neutral painted.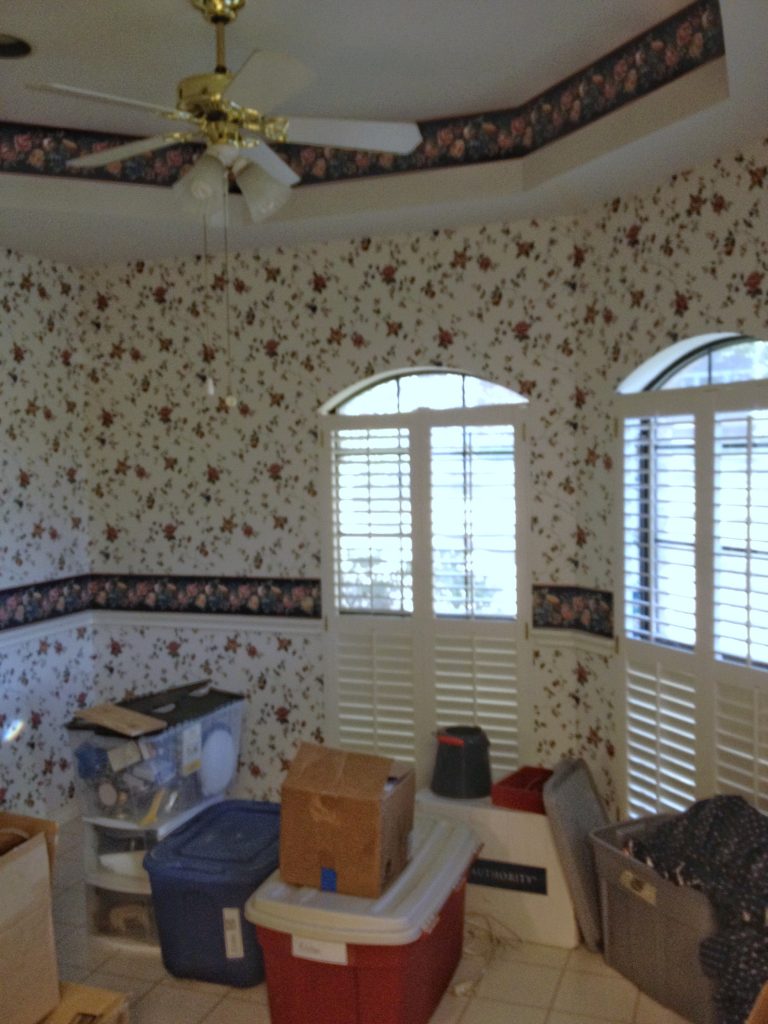 I remember telling my husband I was still completely happy with the "Sea Marsh" color on the kitchen walls… that was just before the painting began in the living room. Once it was complete, it was another story. You know the old one thing led to another adage, it's appropriately placed right here. I was so happy with the way the Sherwin-Williams Anew Gray (SW 7030) had turned out in both rooms. However, when I looked into the living room from the kitchen the Sea Marsh green on the kitchen walls no longer looked right. The color of the new walls seemed as though it would look dreamy against my Crema Nova stone backsplash and my White Persia granite. And one thing led to another…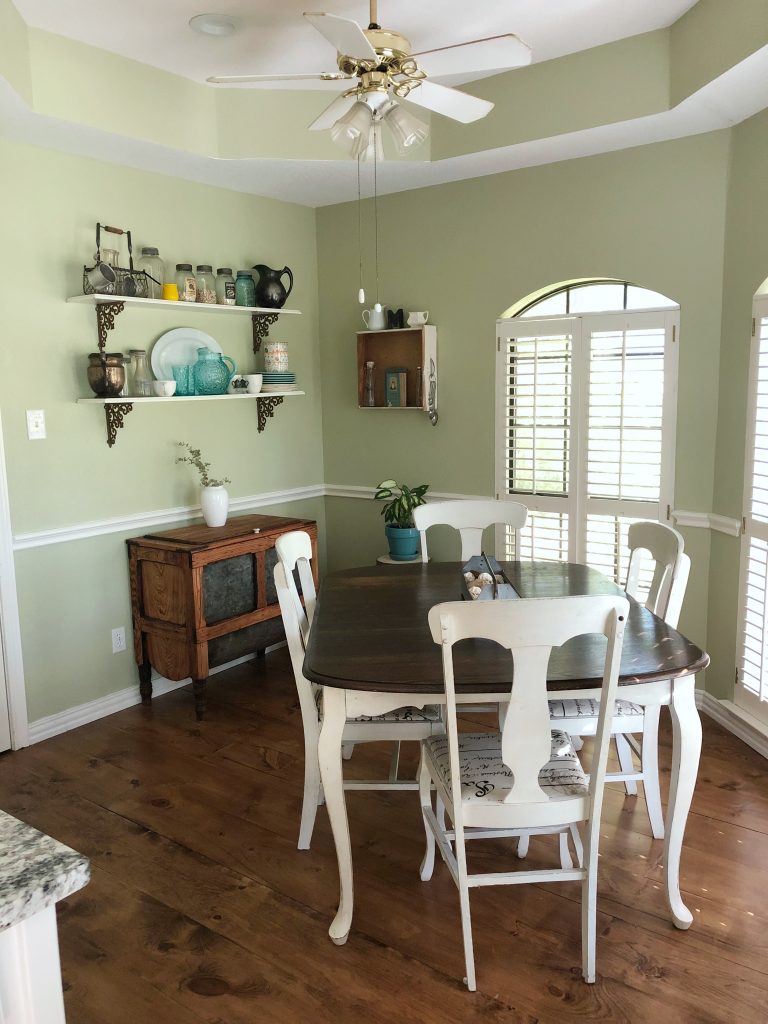 On average kitchens are painted every 3-4 years. However, my walls were in great condition in the kitchen and breakfast room. I couldn't justify spending money on more paint, and I like a good challenge. So, I set myself up with zero budget for the breakfast room refresh. I wanted the color in the same shade as the living room just lighter. I custom mixed paint I already had to achieve the perfect color. I also went ahead and gave the chair rail and trim a fresh coat of Sherwin-Williams Alabaster (SW7008) in semi-gloss (also paint I had on hand).
For some time now I have been wanting to change out the open shelves in the breakfast room. The thin white ones were just some shelves I had from our country house that I used in another attempt at decorating this room without spending any extra money. My brother-in-law gave me some barn wood from his barn that a tornado tore up and from that, I had a 1×12 that I cut two 4′ long pieces out of. I sanded, washed and let them dry out in the 105 degrees Texas heat. Once installed I simply oiled them down.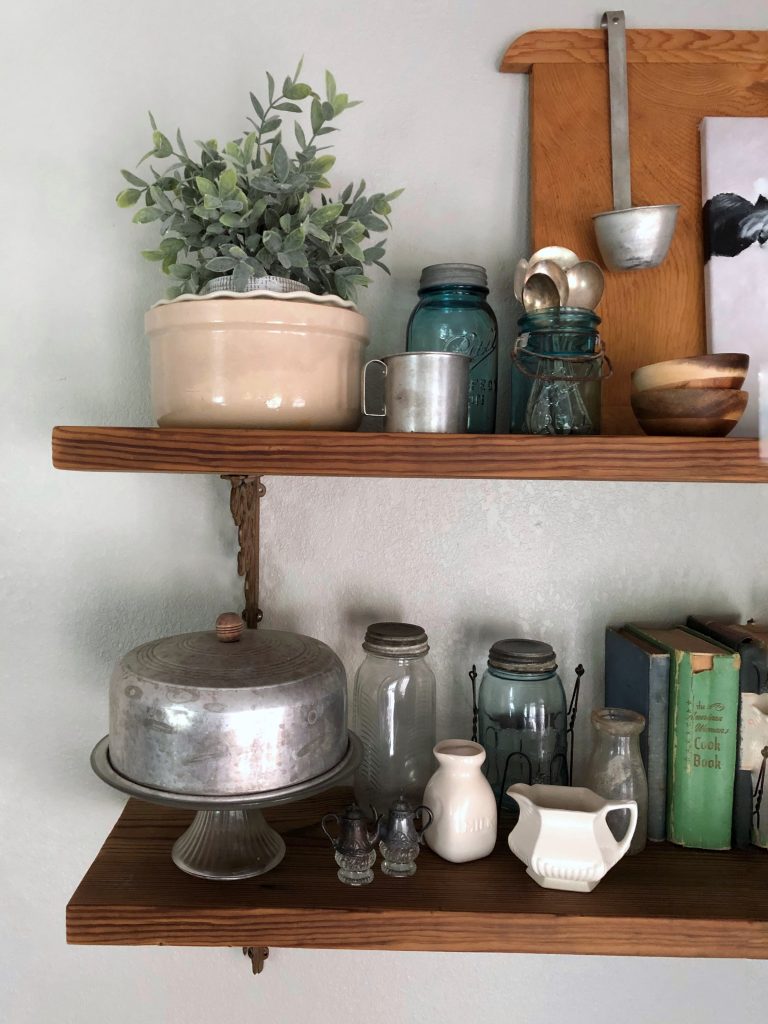 The ceiling fan. Here's the part of the story where I need that old music, dun dun dun… I have always wanted to install a fixture just for the sheer ability of it. I'm not sure I would ever advise a ceiling fan to be the first takedown or installation one does. But, alas it was my first. That shiny brass was absolutely not going to work, and I had recently spray painted another ceiling fan which meant I had all the paint! YAY!!! Haha… that enthusiasm was over real quick. That task is a pain in the neck, literally. But oh so worth it. The best bonus was midway through painting the parts to the ceiling fan (which you can find the steps to on my story highlights on my Instagram) I remembered I had some clear glass globes we had bought a few years ago for a bathroom fixture that didn't work out. GLORIOUS! New globes with no money spent!!!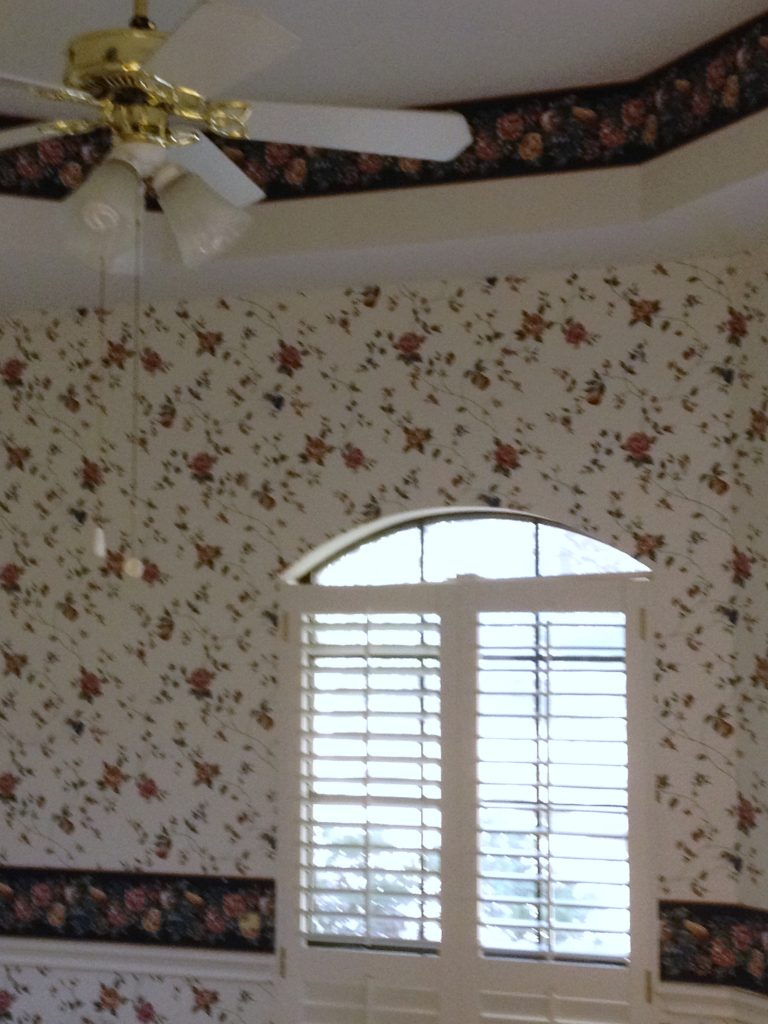 Previously, the tray part of the ceiling was painted because when we first moved in it was covered in wallpaper. At that time I removed it, textured and painted it the same as the walls. This time I wanted all of it to be white and not break up the ceiling area. Also, several years ago we updated all the can lights. You can barely see the old can light in the left corner of the first before, before picture (at the top of this post) it had a black center. The new ones are retro fit and disappear into the ceiling much better.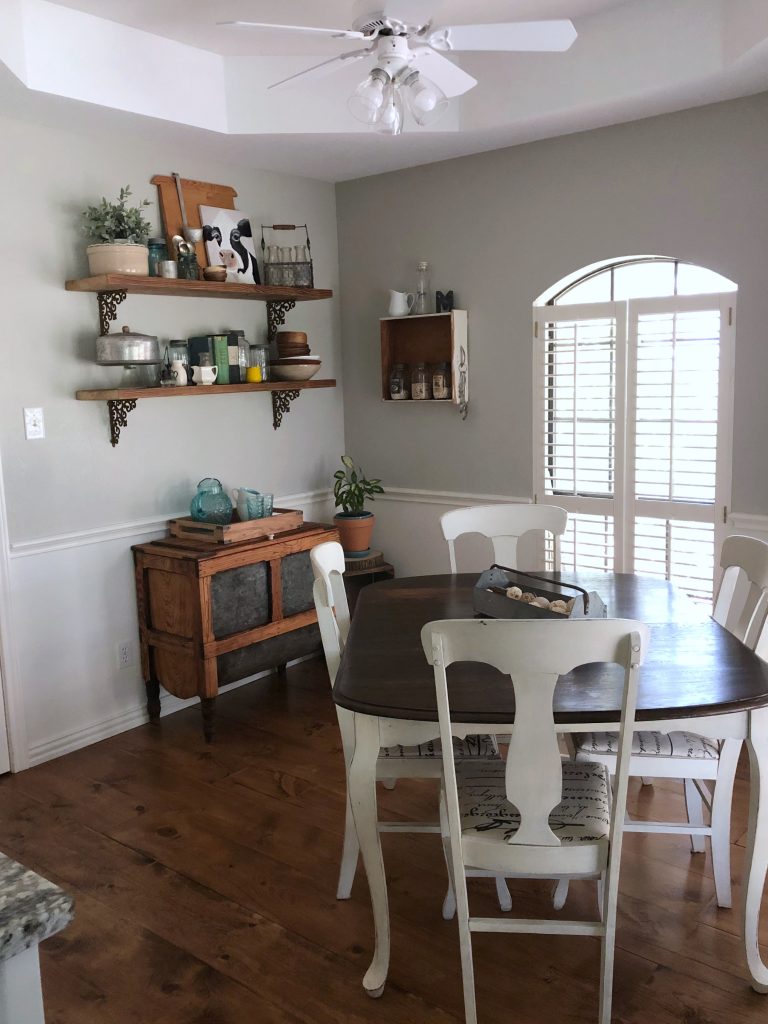 I rearrange decor from one room to the next on occasion and store some things away for seasons. So when it came time to decorate the shelves I had plenty of options. I like to mostly keep the decor relevant to the room and of course, you know most of it has to bare a story. I brought out some of my grandmother's old cookbooks and one my younger sister gave me, milk bottles from my grandparents farm that had previously been a dairy, the dough board and drawer are from my grandparents' house that was torn down, old jars my dad gave me and some from my grandmother, a ceramic bowl from my momma, a crock from my grandmother, old silverware also from my grandmother, the chicken wire basket is from my mother in law and some things I picked up at different thrift sales. The cow painting by my daughter is available for $40. It was for staging purposes… Although I'm really liking the look of it here.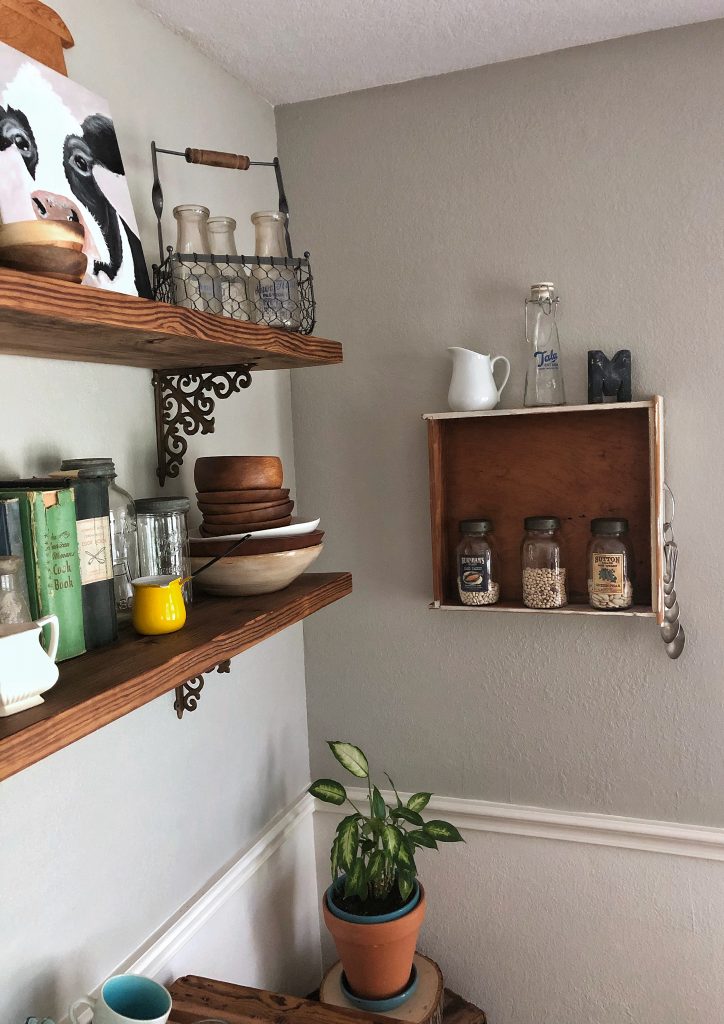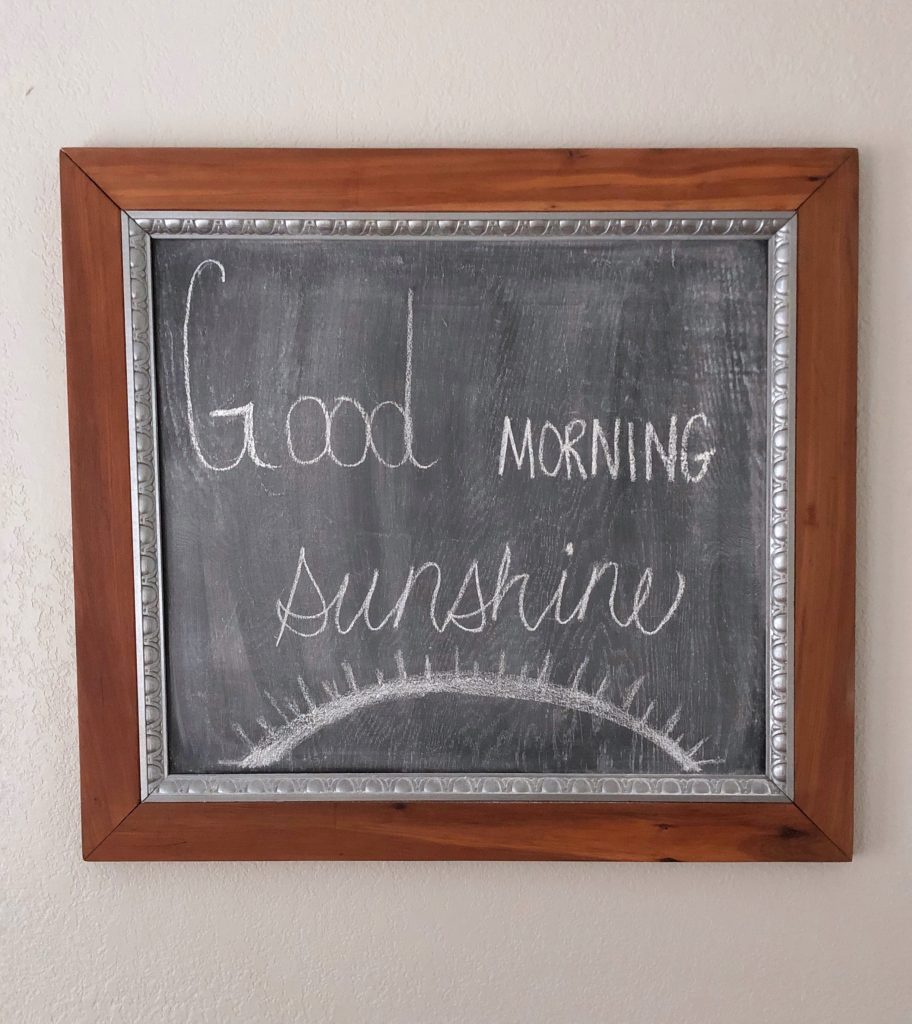 I'll share the kitchen soon. You didn't think I was leaving it out, did ya?
If you are ready for a fresh look in a room, paint is the best and biggest transformer. And, if you are like me you may have enough "leftovers" that you can create your own custom color without having to purchase more. My advice for a zero to low budget room makeover is taking stock of what you have already, what you can "steal" from another room and then what is the absolute "must" buy. Get creative with your decor. Look for inspiration in what you "do" in the room. Decorate with things you still use; having them out makes them easier to put away! And most importantly make it fit you and your personality not just something that is on trend.
My heart to your home,
Jolé
Per usual; I've already rearranged and taken several things off. So, which do you like better? I'm leaning to the less stuff side. Also, you can read all about my grandmother's flour and meal bin that I nourished back to life here.