As I write about furniture, home renovating, and decor – the story behind it is what draws me. It's that tagline Style with a Story that I really emphasize. The story is what makes it interesting. The story of how you got it, where it came from, what inspired it, how you re-styled it… All of it. I've said before: "I loved old things even before old things were cool." Hmm… reminds me of a country song :).
I think my grandmother instilled a lot of that love in me, and several posts I make will refer back to her. So, I wanted to introduce you to my grandparents. I called my grandmother Gams. My kids called her Gammy. She was a safe place for us all. My grandfather, Gamps, was loyal, hardworking, and never met a stranger. My grandparents were special people. Here is an excerpt from something I spoke on the day of my grandmother's funeral.
---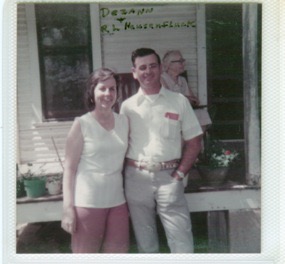 I enjoyed many good times in my grandparent's pasture; from picnics with Gams, driving Gamps' truck (when I was way too young to do so), riding horses, shooting off fireworks, and in more recent days hunting with my husband. Those times are a part of my life culture, for which I will always be grateful.
Strength and honor are her clothing, and she shall rejoice in time to come. She opens her mouth with wisdom. And Her children rise and call her blessed.

Proverbs 31:25-26,28
Proverbs 31 also says, "Who can find a virtuous woman? For her price is far beyond rubies."…My grandmother was a woman of great virtue. Her patient nature was beyond comprehension. I remember when we were growing up she would let us kids play all day on the piano if we wanted (and when I say "play" it wasn't pretty music either – it was a clang and bang concert). I think of the scripture in 1Thessalonians that ends with "…be patient with all." I don't remember her ever loosing her patience with anyone. What a great virtue to behold.
In Titus, we read about older women teaching younger women. She was teaching me my entire life. She taught me you are never too old to take up a hobby and become an artist if you so choose. She taught me all my life what it looked like to love your husband. She taught me to enjoy the beauty of nature, to appreciate what the earth yielded for resources, and the importance of learning from the generations before you. She taught me about baking bread and how to eat it well with a mixture of honey and butter! She taught me the importance of slowing down and having a good conversation. She taught me more than I could ever write on a page. I loved her and she loved me more.
Gams loved to watch nature in all its glory. The sunshine was her delight of the day. And in the last days at home, she particularly loved watching the red-headed woodpecker in the tree off her back porch. She enjoyed cooking and eating all kinds of food and she absolutely loved children. She would say, "I just enjoy watching little people." She enjoyed listening to the Gather Gospel singings. As we gathered at her house my daughter, Alex, noticed the hymnal on her keyboard opened to Farther Along. Some of the lyrics are:
Cheer up my brother live in the sunshine
We'll understand it all by and by
When we see Jesus coming in glory
When He comes down from His home in the sky
Then we shall meet Him in that bright mansion
We'll understand it all by and by
Last night, as I prayed with my children, Makenna thanked the Lord for who He made Gammy to be. Truly, she was a blessing. It's true what is said about spending time with someone. Those are the things we hold dear about her. Not anything she could ever have bought us. But the time she spent with us: priceless. She always had time for us and was a huge part of our children's lives. The summers our oldest two, Corey and Jacquelyn, would spend with them are precious memories etched in their minds forever.
She lived out the scripture in Ecclesiastes: "To everything, there is a season and a time for every matter or purpose under heaven." (3:1) and…
A good name is better than precious ointment, and the day of death better than the day of one's birth. (Ecc. 7:1)
Why? because there is rejoicing in Heaven.
---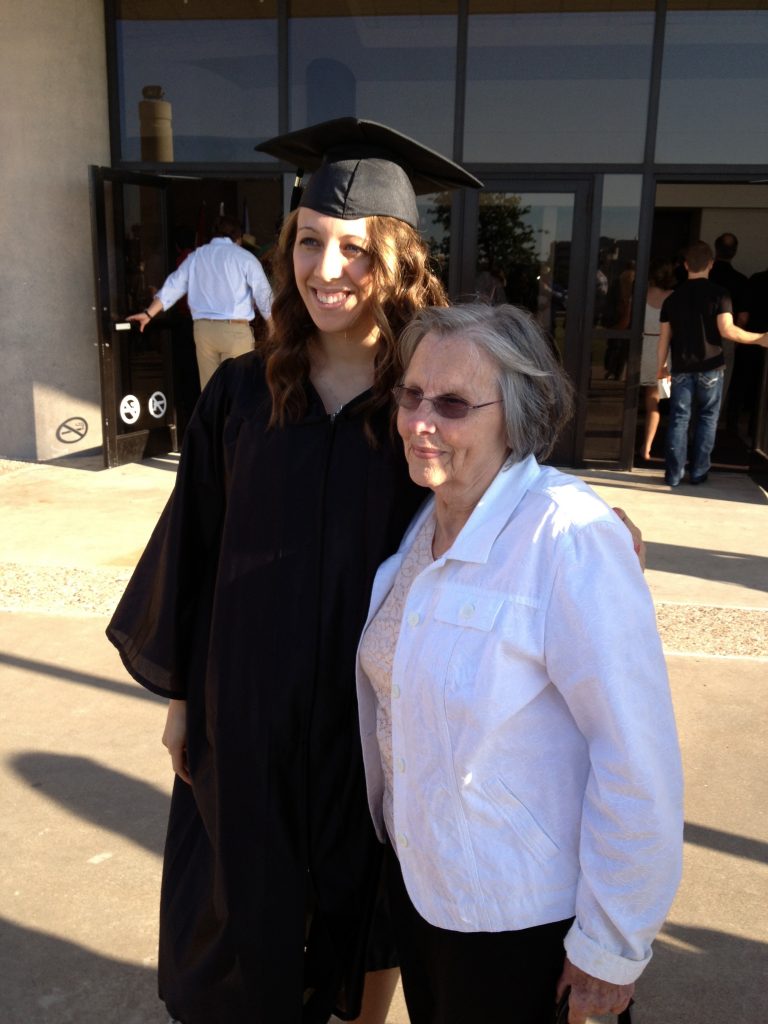 ---
It is important to honor and respect who they were in my life. Many things in my home came from theirs which makes me smile, and I am excited to share those things with you. I am equally excited to inspire you to build your own style with a story that honors and remembers those you love!
My heart to your home,
Jolé