It hasn't happened very often, however, occasionally I have seller's remorse. I may really like a piece, but I am usually quite ready to let it go to a new home and pay me for its time here. Oh, but this one time… There was this dining room set that was really quite stunning after it was all done.
I don't usually nab those great deals on those buy/sell/trade sites (only twice that I recall oops, maybe 3 times). This set was in a storage building that was needing to be emptied quick. I really fell for the chairs more than anything. There were six, but one was broken, and a dining set with 5 chairs doesn't sell very well. They were sturdy, and I always love ladder back chairs so, for the price I figured I could maybe just sell it with 4 chairs (the broken chair had a stretcher that was missing but still sturdy). The top of the table had a pattern to it and there was a big reddish spot on it, not to mention I really didn't care for the honey oak stain color. But, here we were loading it up in the truck.
---
I'm terrible at getting a true before picture. In the first picture, I've already sanded down the red spot.
---
Oh, did I fail to mention it's veneer! Yeah, I bought it knowing it was veneer… Sometimes I get so glossy eyed over how I see a piece turning out that I forget what it takes to get it there. Besides having to be mindful of the direction of the grain I had to be super careful of the pressure in sanding. Just a little side note – veneer is not my favorite thing to take off or to refinish with stain. Veneer is at the top of the DON'T DO IT, JOLÉ list. But alas as you will learn, I do it… again and again, I do it…
I used Minwax Wood Finish in Early American for the top and painted the bottom with Annie Sloan chalk paint in graphite with 2 coats of dark wax. I reupholstered the seat cushions and wow did it look good. Sometimes I still wish I would have sold the table and kept the chairs. They were awesome. As it turned out, I went ahead and refinished the sixth chair and sold it as a 5 chair set and threw the sixth one in for good measure.
---
---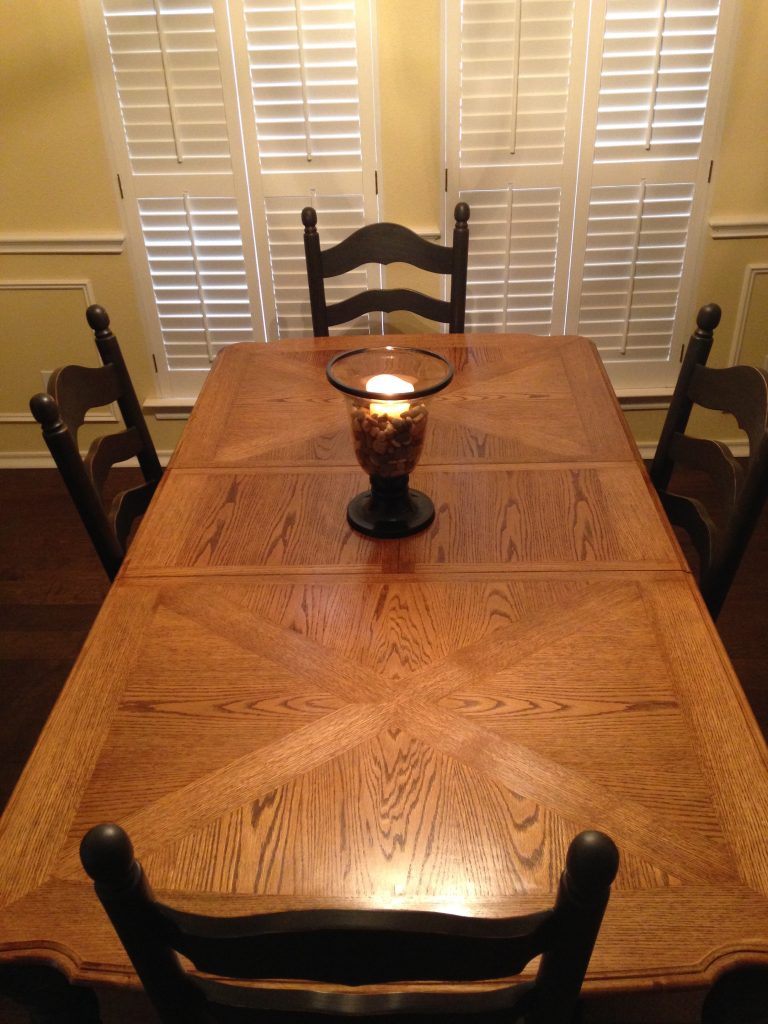 When searching for the perfect piece of furniture don't let the blemishes get in the way of the vision of "what could be."
My heart to your home,
Jolé