I love having Thanksgiving dinner in our home, and we have been hosting it for 9 years. The whole week of Thanksgiving is a preparation of some sort that leads up to family and a good dinner on Thanksgiving Day. After dinner, of course there's football, pie, the sales ads, more pie, and we talk about our Christmas gathering which is also at our home this year!
So, what do you do with all the leftover turkey? No sandwiches or salads here. I make Turkey Tortilla Soup. I use my own Chicken Tortilla Soup recipe and substitute the turkey. And, let me tell you it is DELISH! My Tortilla Soup is a big hit around here and so is my husband's fried turkey. Put them together and you've got next level deliciousness! If you get tired of turkey in its normal forms then give this a try.
Although the turkey amounts will vary just use what you have, and I'm sure it will be yummy.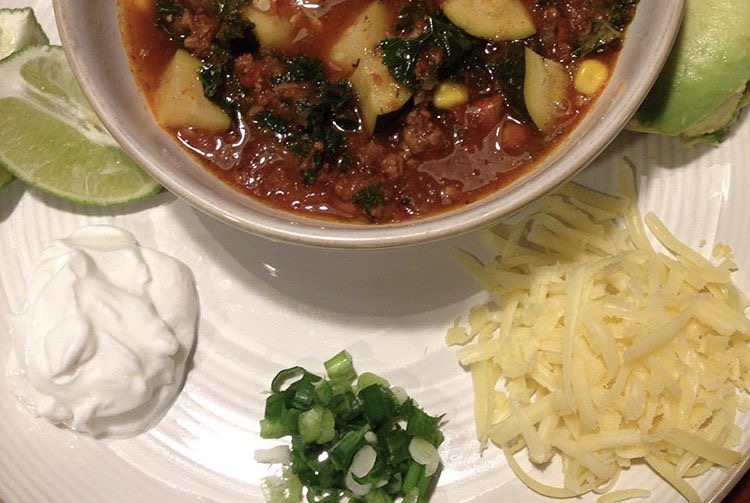 This is actually Taco Soup which I top the same as Tortilla Soup. If you would like the taco soup recipe just send me an email at info@joleshomejewels.com.
Turkey Tortilla Soup Recipe:
Leftover turkey
1 T oil or butter
4 C chicken broth
3 carrots, peeled & chopped
1 medium white onion chopped
3 cloves of garlic (I use elephant garlic)
4 stalks celery chopped with leaves
1 14oz can fire roasted crushed tomatoes
1 small can mild diced Hatch green chilis
1/4 C chopped fresh cilantro
1 t coriander
1 t oregano
1 t paprika
1/2 t cumin
Salt & pepper to taste
Directions:
Over medium heat add oil or butter to a soup pot and soften all fresh vegetables & stir
Add broth and scrape the the bottom of the of the pot
Add turkey
Add can of tomatoes & can of chilis
Add chopped cilantro
Add salt & pepper and spices – simmer for 30 minutes
Top with sour cream, avocado, cheese, tortilla chips, chives, & a squeeze of a lime wedge
Voila!
To make it easier I chop all the veggies and garlic in my food processor.
If you have picky eaters you can purée all your vegetables once they are cooked before adding the tomatoes and chilis.
I hope you give this a try, and if you do let me know how it turns out! May you all have a blessed week with many memories held dear.
From my heart to your home,
Jolé